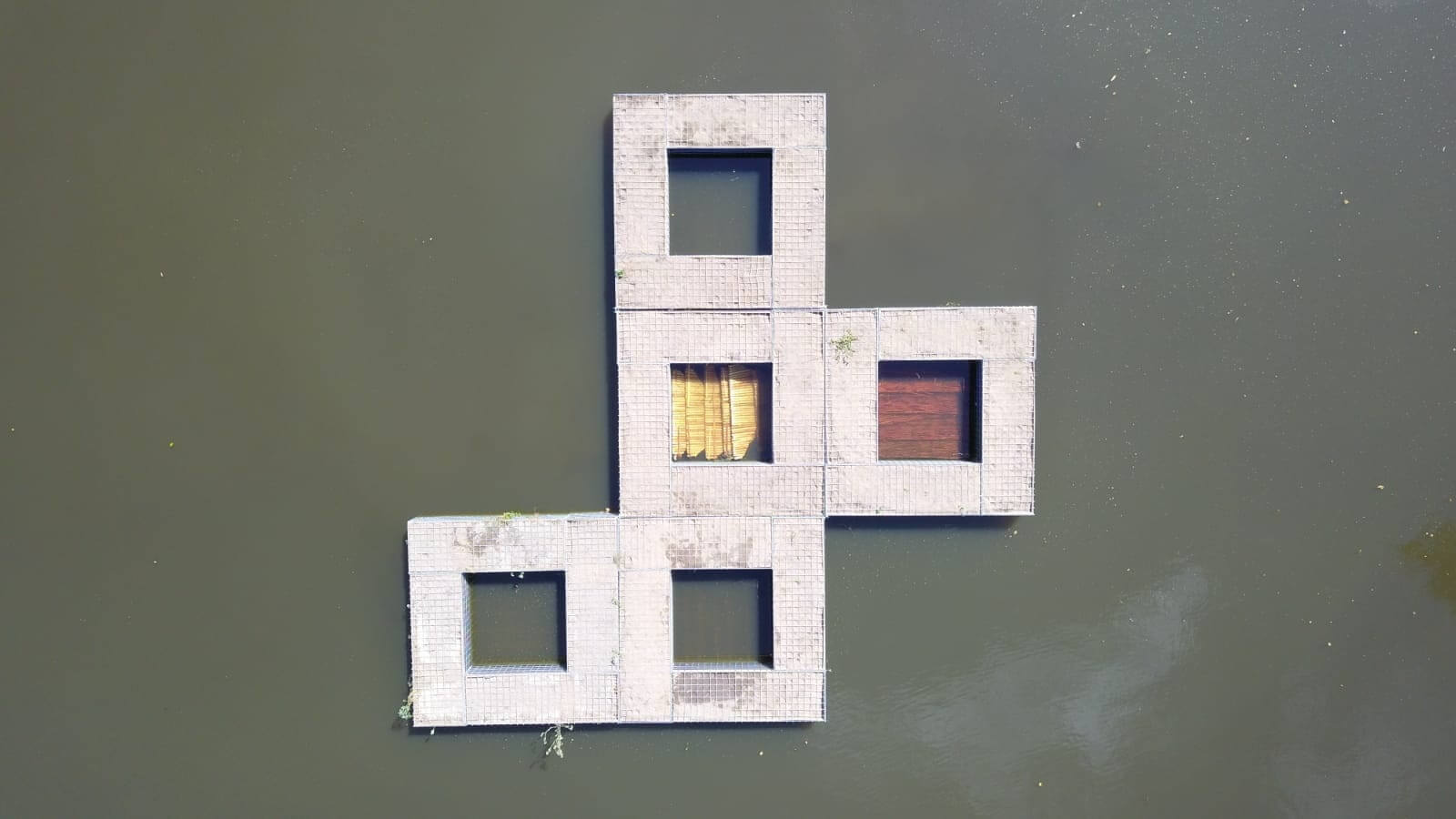 Sinds vorige week liggen er vijf pontons in de Tongelreep in Eindhoven. Deze drijvende eilanden moeten een schuilplaats vormen voor vissen en onderwaterinsecten. Een grotere diversiteit aan onderwaterleven draagt bij aan de verbetering van de waterkwaliteit van de Tongelreep en uiteindelijk de Dommel.
Proef
De drijvende pontons liggen in de Tongelreep bij het prehistorisch dorp in Eindhoven. Ze blijven als proef maximaal twee jaar in het water liggen. Onderaan de pontons zitten lamellen van verschillende materialen; wilgentenen, betonstaal, bamboe en kokosmat. Deze lamellen bieden een schuilplaats, een habitat voor het onderwaterleven. De bovenkant van de drijvende blokken is beplant met bloemen en planten. De drijvende constructie komt ongeveer zestig centimeter boven het water uit.
Monitoren
Met behulp van een onderwatercamera onder de constructie en monstername met de boot monitort Waterschap De Dommel de proef. Door dit frequent te doen, wordt duidelijk welke vissen en onderwaterinsecten op welk materiaal gaan vestigen. Door op een andere plek in het water een referentiemonster te nemen, kunnen we zien of de onderwaterconstructies ook daadwerkelijk andere soorten aantrekken.
Leefruimte onder water compenseren
Er wordt steeds meer gebouwd op water; steigers, woningen, zelfs hele wijken. Hierdoor verdwijnt er leefruimte voor onderwaterleven. Het idee van de drijvende eilanden komt van Blue Habitats in samen werking met Waterstudio. Met een duurzame constructie onder water willen zij het verlies aan leefruimte compenseren.
Waterschap De Dommel wil het creëren van onderwater habitats inzetten waar natuurlijk habitat ontbreekt. Vissen gebruiken natuurlijke materialen om onder te schuilen en hun eieren op af te zetten. Met name in een stedelijke omgeving zonder natuurlijk vriendelijke oevers en zonder ruimte voor takken, wortels of omgevallen bomen kunnen de drijvende eilanden uitkomst bieden.