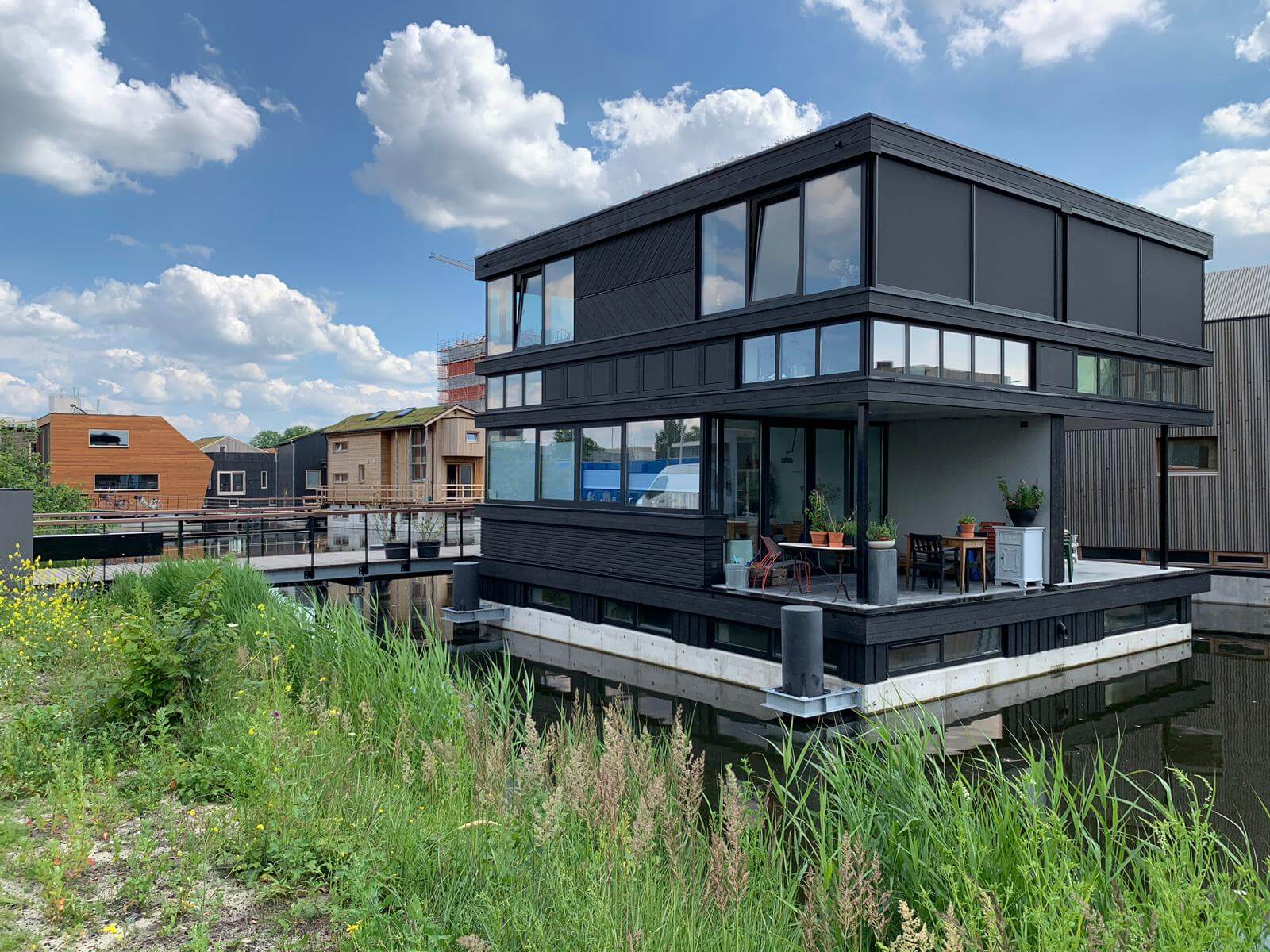 By Joyce Boverhuis
EenVandaag
July.01.2019
Dit jaar krijgt Amsterdam de meest duurzame drijvende woonwijk van Europa met de naam 'Schoonschip'. Bouwen op het water is volgens deskundige Koen Olthuis een uitkomst.
Koen Olthuis is architect en eigenaar van Waterstudio.nl. Voor hem is bouwen op water bijna een religie. Hij gelooft in 'the rise of the blue city'. Tokyo, Miami, Jakarta, Olthuis reist de wereld rond om steden te voorzien van advies over bouwen op water. Zijn motto: 'Green is good, blue is better'.
Niet vechten tegen water
Olthuis: "Met de stijgende zeespiegel is het voor sommige steden veel veiliger om te bouwen op water. Daarnaast kan het water gebruikt worden voor duurzame verkoeling en verwarming." Olthuis wijst ook op het gebrek aan bouwgrond in Nederland. "Er moeten jaarlijks honderdduizenden woningen bijkomen om de krapte op de woningmarkt op te vangen. In de stad is op land geen ruimte meer, dan moeten we toch gebruik maken van water?"
Olthuis verbaast zich erover dat we in Nederland zoveel energie steken in het wegpompen van water, terwijl we er ook óp kunnen wonen. "Bouwen op water heeft enorm veel voordelen. Huizen op water zijn verplaatsbaar, mee te draaien met de zon, aanpasbaar aan het seizoen. We vechten in Nederland tégen het water, maar waarom maken we er niet meer gebruik van?"
Milieubewuste verwarming
Remco de Boer is expert op het gebied van energietransitie. Hij zegt dat we ons in Nederland niet meteen zorgen hoeven te maken over overstroming door een stijgende zeespiegel. "We zijn een rijk land en kunnen ons wapenen, bijvoorbeeld door de bouw van nieuwe Deltawerken."
Voor de veiligheid hoeven we wat De Boer betreft in Nederland niet uit te wijken naar bouwen op water. "Dat is natuurlijk anders in landen als Bangladesh." De Boer ziet net zoals Olthuis wel dat water gebruikt kan worden voor een milieubewuste verwarming. Al hoeft het huis daarbij niet per se óp het water te staan.
Makkelijker vergunning krijgen
Aan enkele gezinnen die komen te wonen in de drijvende woonwijk 'Schoonschip' in Amsterdam gaf Olthuis advies. Hij vindt het een prachtig project, maar heeft meteen ook wat geleerd over hoe bouwen op water beter kan in Nederland.
De locatie van de drijvende woonwijk 'Schoonschip'
"Bouwen op water heeft drie voorwaarden. Je moet een plek hebben, de techniek in huis hebben – dat hebben we in Nederland zeker – en ook vergunningen kunnen krijgen. Wat dat laatste betreft is het in Nederland ontzettend lastig. Ik kan wel zeggen dat we daarin in Nederland zelfs achterlopen. Als we de trend van bouwen op water in Nederland een impuls willen geven moet dat echt makkelijker worden."