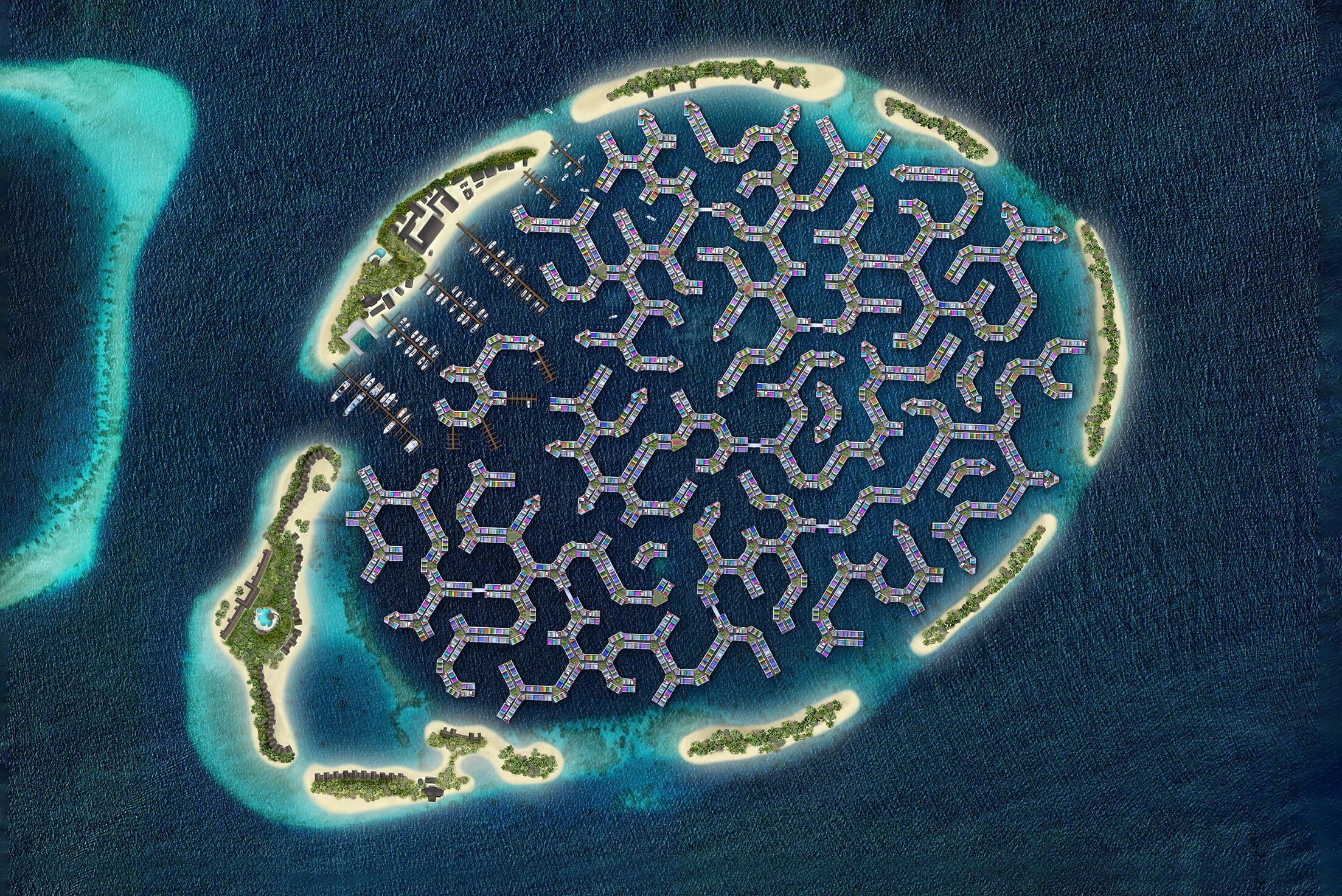 Maldives floating city planned to combat sea level rise
By Dive Magazine
2021.May.07
Radical plans to develop an environmentally-friendly floating city in the Maldives have been announced by the Netherlands-based engineering firm Dutch Docklands.
Officially named Maldives Floating City (MFC), the development, which is being planned in cooperation with the government of the Maldives will be set in a lagoon location situated 10 minutes from the Maldivian capital, Malé
According to a Dutch Docklands press release, the 'first-of-its-kind "island city"' will offer ' a revolutionary approach to modern sustainable living perched against a backdrop of the azure Indian Ocean… a futuristic dreamscape finally poised to become reality.'
The project has been in development for more than a decade and plans to feature thousands of waterfront residences floating along a flexible grid spread across the 200-hectare lagoon. MFC's design will be 'inspired by traditional Maldivian sea-faring culture' and the homes will be eventually joined by hotels, restaurants, boutiques, and a 'world-class' marina.
MFC is a response to the existential threat of sea-level rise posed by climate change. As one of the lowest-lying countries in the world, much of it less than 2 metres above sea level, the Maldives is widely recognised as one of the countries in most danger of becoming uninhabitable in future years.
'As a nation at the front lines of global warming, the Maldives is perfectly positioned to reimagine how humankind will survive — and, indeed, thrive — in the face of rising seas and coastal erosion,' said a Dutch Docklands representative. 'By leading in this effort, the Maldives not only lays the groundwork for combatting its own climate challenges, but provides a viable blueprint for other nations to follow.'
The developers are keen to play down the potential for environmental damage that the floating city might cause. The visible parts of the city above the surface are modelled on coral formations and will be connected to the barrier islands, which in turn serve as breakwaters for the lagoon. The company stress that, because the city is floating, damage to the reef will be minimal.
'MFC does not require any land reclamation, therefore has a minimal impact on the coral reefs,' said former president of the Maldives, Mohamed Nasheed. 'Our adaption to climate change mustn't destroy nature but work with it, as the MFC proposes. In the Maldives, we cannot stop the waves, but we can rise with them.;
Construction is expected to begin in 2022 and will be carried out in phases over the next five years. The first sea-front units are expected to be priced from $250,000, and will be available to foreign investors and Maldives residents alike.
'With its unique location in a paradisiacal setting, next to President's Island — and full support of the Government of Maldives — we are extremely proud to launch the first Floating City in the world,' said Paul HTM van de Camp, CEO of Dutch Docklands. 'This will be an amazing place where locals and foreigners can buy their dream property at affordable prices.'