Waterstudio.NL and Dutch Docklands in Dubai
Waterstudio.NL and DDI present the Dutch possibilities for building on water to minister Peijs.
Waterstudio.NL and Dutch Docklands International in Dubai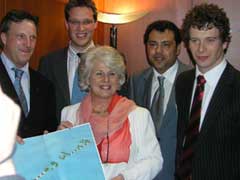 Rolf Peters of Waterstudio.NL (utter right on the photo ) and Paul van de Camp of DDI (utter left on the photo) present the Dutch possibilities for building on water to minister Peijs in Dubai.
In addition to Palm Island and The World, Dubai is developing Palm Jebel Ali. With this palm, which is one and a half times the size of the first Palm, Dubai will write on the water life-sized. The poetic texts are of philosophic nature and are written by the Sheikh.
The project will include 80 floating Arabic words with a total surface of 350.000m² of floating building ground, on which 404 houses will be built. The company PalmMarine from Dubai has been asked to present a tender for the realisation and design of this project and called upon the Dutch for their expertise.
Under the supervision of Waterstudio.NL Dutch Docklands International and Royal Haskoning together invented a total package with the complete architecture and innovative solutions. March 14th 2006 the result was offered to Nakheel (the largest developer in Dubai, and owned by the Sheikh) in Dubai.
Minister Peijs was also present to morally support the Dutch innovative companies in the field of building on water. As a token of gratitude for her interest in the Dutch architecture and innovations on water, she received a copy of the book containing the designs and technical solutions from Rolf Peters (partner Waterstudio.NL).
PalmMarine, Waterstudio.NL, Royal Haskoning and Dutch Docklands International hope to hear within a couple of weeks whether the tender will be accepted.