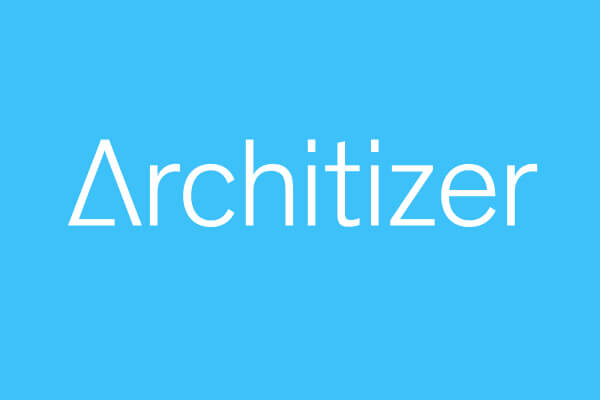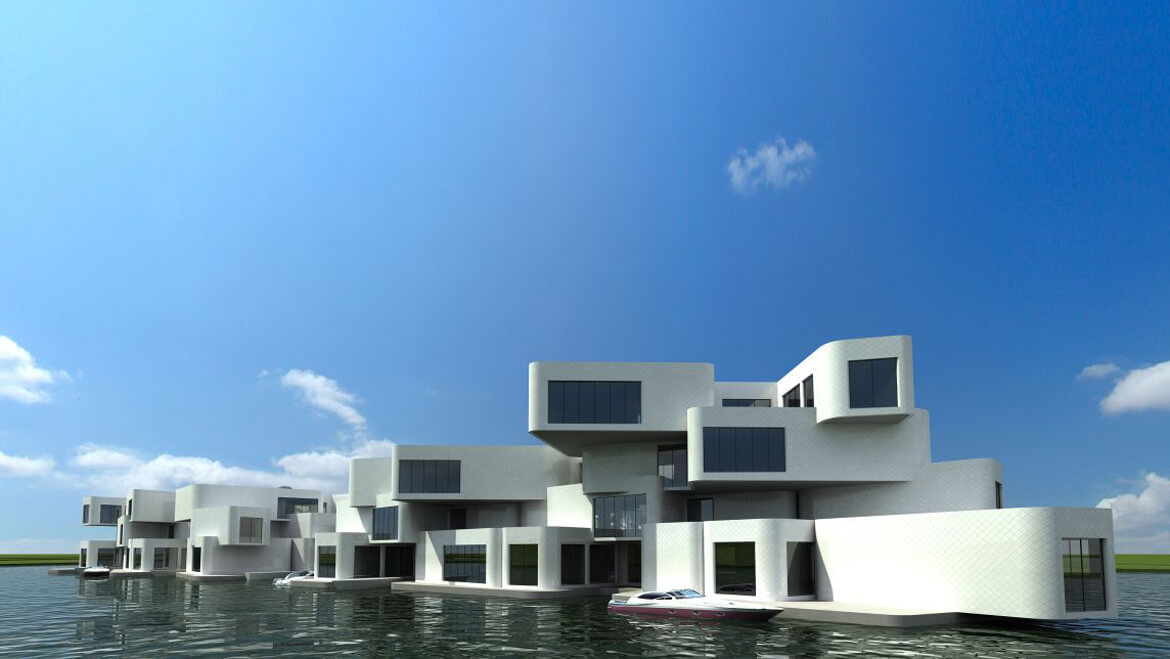 Architizer, Lamar Anderson, Oct 2012
Vincent Callebaut's Coral Reef Island, a proposal for Haiti. Photo courtesy of Vincent Callebaut
What is it about water that captures our imaginations? Yes, we certainly have been warned about rising sea levels and the 100-year flood's awkward rechristening as the 3-to-20-year flood. But if stats really got through to us, obesity wouldn't be a crisis and we would all have retirement savings. When it comes to visionary designs for the future of the built environment, flood scenarios dominate the design briefs—standard-issue earthquakes, tornadoes, and volcanoes just can't catch a break.
In our collective architectural imagination, the next century looks like a fanciful sci-fi resort in which we jet from floating airports to floating Scottish villages, soak in pools that float (wink-wink) in rivers, and furnish our floating apartment complexes with flat packs we bought in floating IKEAs.
And now that Post-Tropical Cyclone Sandy has filled New York's subway tunnels with water, it doesn't seem so farfetched to imagine a fleet of gondolas sending commuters down a river underneath Broadway (which would certainly be an interesting entry in our Architecture + Weather category in the A+ Awards!). So, in preparation for only the most picturesque of disaster scenarios, we bring you some of our favorite futuristic designs for the all-waterfront property of tomorrow.
The Belgian architect and vertical-farming enthusiast Vincent Callebaut thinks planners in Haiti should take a cue from the organic architecture of coral reefs. His proposal calls for a modular reef built atop seismic piles on an artificial pier in the Caribbean. In Callebaut's scheme, two wavy hills of wood-clad metal modules bookend a central valley built out with terraces and cascading food-producing gardens. The modules form passive houses that could shelter more than one thousand Haitian families come the next catastrophe.
As a lowland continually beset by flooding, the Netherlands already has its share of floating houses and villas. "The toolbox of floating developments in Holland is still not so large… concepts with high density are not available." WaterStudio says in its design brief. So the firm is working on the Citadel, which will be Europe's first floating apartment complex. Part of a 1,200-house urban development called New Water in the city of Westland, the project will push beyond the country's usual relationship with its excess water—constant pumping—and intentionally flood the site. The apartments will be built from 180 modules surrounding a courtyard that will be anchored on a concrete caisson foundation. Like the luxury watercraft it actually kind of is, the 60-unit Citadel will rise and fall with the water, offering its residents wetland views and berths for small boats.
After the 2010 earthquake in Haiti, Tangram 3DS and E. Kevin Schopferwanted to boost the country's resilience with an adjacent floating city in the Caribbean. The designers imagine this Harvest City as a solar- and wind-powered mini-metropolis for 30,000, complete with its own agriculture and light industry. Their plan calls for four zones of concrete-hull modules that span a diameter of two miles, linked by a linear system of canals. Residents would live in four-story tilt-wall concrete structures, run light-industry operations in Quonset hut warehouses, socialize in the harbor city center, and farm crop circles—dubbed "floating pie pans"—filled with topsoil.
This hotel/greenhouse/waterborne Slinky by the Russian firm Remistudiocan withstand tidal waves and grow vegetables.
Designed to ride out another Katrina, the New Orleans Arcology Habitat(NOAH) combines flood-ready buoyancy with an open triangular structure that sends severe winds straight through the center of the building. Proposed by E. Kevin Schopfer, the massive mixed-use complex would provide housing for 40,000 and include three hotels and casinos, cultural facilities, a district school system, and a health-care facility on the Mississippi River. Also: organic gardens.
For those of you who prefer tiny houses to floating high-rises, a Japanese company called Barier has the solution for you. Barier's 32-sided, 540-square-foot watertight houses can survive earthquakes, will stay upright in a tsunami, and come with a reassuring slogan: "Soccer ball-shaped houses strong with disasters."
No discussion of next-next-gen splashy, speculative urban aquatic design would be complete without Vincent Callebaut's floating lilypad city for the year 2100, when 50,000 of Callebaut's climate refugees will flee land to found their own eco-city. As you would expect from any decent post-apocalyptic Eden, this one thrives on aquaculture, organic farming, and amphibian metaphors.