Floating islands to the rescue in the Maldives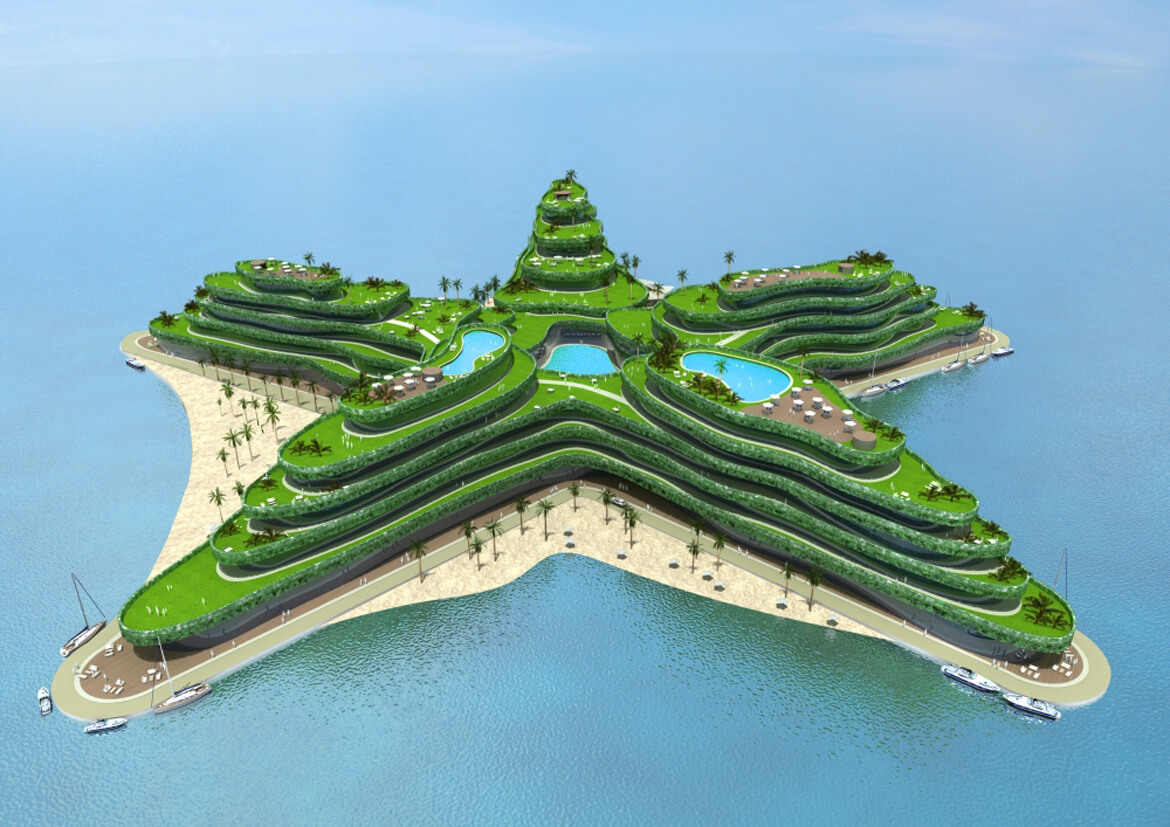 Thestar.com ,Debra Black, Aug 2012
A unique series of man-made floating islands – called the 5 Lagoons Project – will begin taking shape this fall around the Maldives, a series of almost 1,300 islands in the Indian Ocean. The floating islands are part of a joint project that many hope will be the solution to the impending environmental crisis the islands could face over the next 50 years.
Thanks to climate change and the forecast of increasing sea levels, the Maldives – which are now only one and a half metres above sea level — could one day be totally submerged. The project is a joint venture between the Maldivian government and Dutch Docklands, a Holland-based firm that specializes in building everything from floating prisons to floating conference and hotel complexes and homes. The 5 Lagoons Project — 80 million square feet — will include: a private islands project with $10 million villas; a floating 18-hole golf course with an undersea tunnel; a conference complex and hotel; 185 $1-million waterfront homes connected along a flower-shaped quay as well as a separate floating island with homes for residents of Malé, the country's capital. The first phase of the $1-billion project will go on sale later this year with other parts of the development to be started over the next two to five years. Privately financed, the project is a joint venture between the Maldivian government and Dutch Docklands.
Paul Van de Camp, chief executive officer of Dutch Docklands, and his company worked for two years with the Maldivian government to come up with a plan. Key to the deal was allowing foreign ownership of the high-end villas that would be constructed. In exchange Van de Camp's company would build a separate floating island with homes for the bulk of the country's population. All of this will be done with an eye to protect the islands' natural resources and environment, said Van de Camp. The floating islands will not hurt or touch the coral reefs and coral beds that surround the island nor the other marine life in the Indian Ocean that surrounds the Maldives. "The Maldives are the biggest marine protected environment in the world," said Van de Camp in an interview with the Star during a short visit to Toronto. The government is very cautious about anything that could potentially harm the aquatic life, the environment and tourism. The floating islands will be anchored to the seabed using cables or telescopic mooring piles. They will be stable even in storms, the company says. One of the reasons designers decided to build lots of small islands was to lessen any shadow of the seabed because it could affect wildlife.
Van de Camp and his partner, architect Koen Olthuis, have plenty of experience when it comes to designing floating things. Since its inception a decade ago Dutch Docklands has built all kinds of floating islands and buildings in Holland, including a floating prison, a floating conference centre and thousands of floating homes. Until recently Van de Camp hadn't thought of taking his vision abroad because he had so much work in Holland. "But because of the environment issue, we decided our expertise could be exported," he said. "As Dutch people we know as nobody else knows the fight against water is a fight you'll lose. Water is so strong you have to come up with different solutions." With the Maldives project about to launch, Van de Camp is looking at other international possibilities. One such location could be Toronto which is ideally suited for a series of floating islands because of its location on the shores of Lake Ontario. Van de Camp suggests that a series of floating islands would give a different dimension to the city — a new footprint that abandons the idea that the only way a city can expand is to build towers. "We think cities shouldn't always be looking backwards and creating highrise buildings. They should also look to the water to see if they could come up with solutions on the water that would give a better shape to the city."