Dutch firm says giant floating platforms could ease urban crowding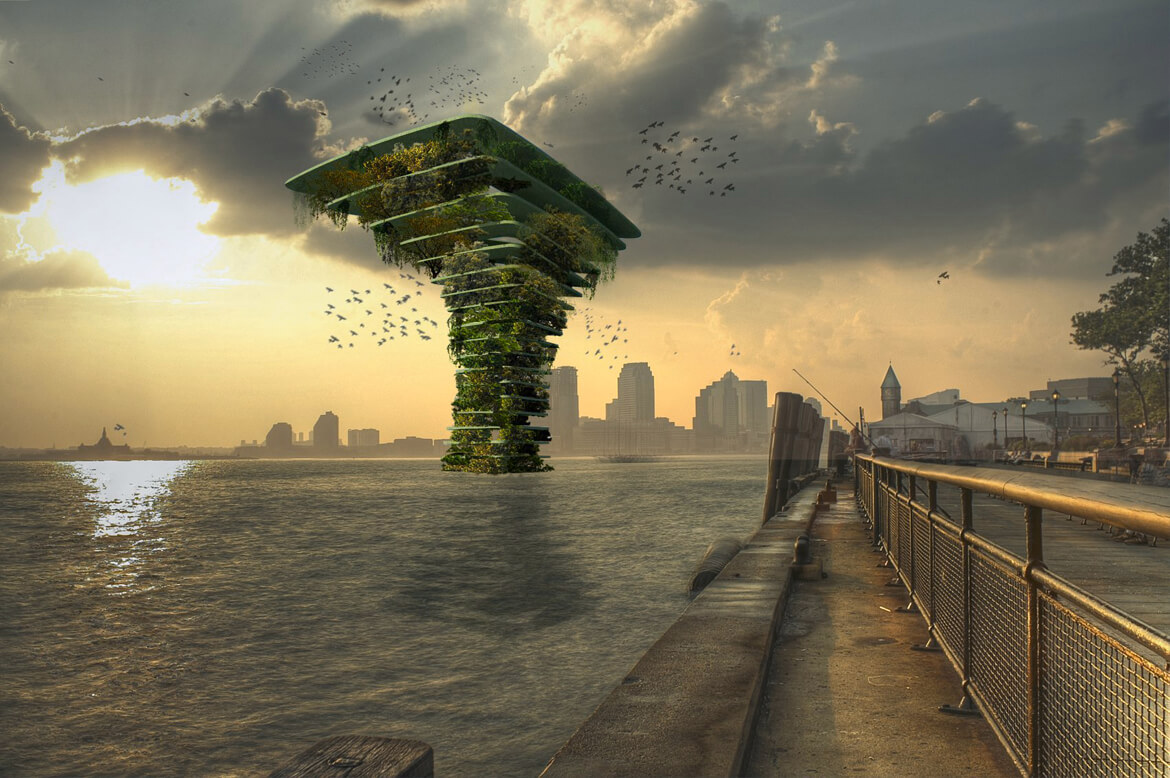 South China Morning Post,Jamie Carter, November 2013
There has been much debate on where land can be found to house a growing population in Hong Kong. For communities elsewhere, the need is even more pressing.
With global population density increasing and sea levels expected to rise by as much as 30cm by 2050, many coastal habitats will come under intense pressure. And the answer could be right on the horizon.
"In major cities there's already a lack of space and the next logical step is to make use of water," says Koen Olthuis, founder of Netherlands-based Waterstudio.nl and architect of multiple maritime projects.
"It's just evolution – the elevator made vertical cities of skyscrapers possible, and water is the next step for letting cities grow and become more dense."
More than two-thirds of the Netherlands is prone to flooding, and much of it is below sea-level, which gives its architects and engineers an unusual perspective on man's relationship to water. While he stops short of proposing giant cities at sea, Olthuis thinks the definition of a city should be changing constantly.
Waterstudio.NL's City Apps project tackles urban density and climate change. It was inspired by Olthuis' belief that cities should be more flexible, and approached as a product.
"Smartphones all look the same but they are not, they are personalised with different apps," he says. "We looked at cities and saw they have their own problems, and our floating City Apps simply add to the hardware of a city."
Waterstudio's first project is for the watery Korail slums of Dhaka, Bangladesh, where 70,000 people struggle to survive. Its solution – a small floating platform housing a school with 20 iPads fixed to the walls, intended to be used as an internet hub at night – has mostly been built in the Netherlands.
"In slums there are no rules – if you build a house it can be destroyed in a few months by the government rethinking that area, but if that happens then City Apps can be moved," says Olthuis. "We've put the floating platform in Dhaka. We need 14,000 plastic PET bottles to keep one City App floating, so we got the local people to collect the bottles and paid them four to six cents each."
The next City App – this time for sanitation – is planned for Bangkok.
A similar project comes from NLE, another Netherlands-based architectural practice, which has been working with the floating community of Makoko, near Lagos in Nigeria.
Around 100,000 people are thought to live here in stilt houses – largely as a result of massive urban sprawl – but the community lacks schools and infrastructure. NLE's solution is a pyramid-shaped primary floating school built from local bamboo, which is intended as a community hub.
Such socially progressive projects are often spin-offs of lucrative contracts elsewhere. Waterstudio's Five Lagoons Project, a joint-venture between Dutch Docklands and the government of the Maldives, will see an area of about 740 hectares supplied with luxury floating developments.
"We are going to develop five lagoons with different functions, including a resort, a conference hotel and a floating golf course," says Olthuis, though the point of the star item – a luxury Ocean Flower resort of 185 villas – isn't just to tempt tourists.
"By doing this we will learn how to make big green islands, and see how we can then make social housing on the water for local people," says Olthuis.
His long-term goal is to help the 110,000 people in the Maldives' capital city Malé, which is barely 1.5 metres above sea level and likely to be submerged in the next 85 years.
"You need this kind of expensive project to fund the future projects to help society," Olthuis says.
Next up is Miami, where 17 floating developments will be built on a large lake. Floating communities aren't always a response to rising sea levels in coastal communities. Non-profit organisation the Seasteading Institute wants to initiate an autonomous offshore community that pushes total freedom and encourages innovation and experimentation beyond the reach of governments.
"We're looking for trailblazers," says the organisation's promotional video. "We believe humanity needs a new, blue frontier where we're all free to explore new ways of living together."
It claims "seasteaders" would only need the kind of money required to live in a big city. The institute is now attempting to raise money for its Floating City project on crowd-sourcing website Indiegogo, and doing fairly well – though it also needs a "host" country.
There's a similar issue over at Freedom Ship International, a Florida-based company that is hoping to raise the US$11 billion needed to build the world's largest vessel.
Designed as a mobile floating platform stretching over 1,600 metres, Freedom Ship – which could set sail renamed as the Global Friend Ship – is designed to host an entire city of up to 100,000.
Just under half that number will reside permanently on the ship, which will make its way slowly around the world's coastal regions over three years.
As it moves, a fleet of ferries and small aircraft (there's an airport on the roof) will take residents to shore – as tourists or businesspeople – and bring tourists onboard to visit the 2.7-million-tonne vessel's casinos, restaurants and businesses. It will have schools, a hospital and a security force.
"It's the first ever floating city," says Roger Gooch, director and vice-president of Freedom Ship International, "but it's too large to go into a port so it will also stay around 15 miles [24 kilometres] offshore in international waters."
Freedom Ship is designed to let people get away from the normal restrictions of global geography and governments, he says.
There's a similar reason behind another offshore entity called Blueseed. A purpose-built floating platform registered in the Bahamas but moored in international waters 22 kilometres from the shores of San Francisco, Blueseed is aimed at international entrepreneurs who can't enter the US (Silicon Valley, in particular) to start companies because of restrictive visa issues.
Offering its occupants – all with a US business or travel visa – daily 30-minute ferry rides to the mainland as well as helicopter trips, Blueseed will begin life next year on a refitted cruise ship, progressing to the custom-built Blueseed Two floating city soon after.
But life at sea isn't just restricted to land-based humans. Olthuis has a vision of a Sea Tree, a multi-storey floating structure similar to an oil rig that could be placed in rivers, lakes and oceans near densely populated cities.
"Instead of creating green areas in the city, make them on the water," he says. "When nature starts to colonise a Sea Tree then birds, animals and insects will use it, too."
Olthuis already has a way to pay for it. "I could see oil companies donating Sea Trees to cities in return for drilling rights," he says.
A Sea Tree in Victoria Harbour? That really would give Hong Kong a new look.
Click here to read the article